Send highly professional formatted messages that are personalized for each of your recipients.
Using which ever fields of information you have stored for each of your recipients (or contacts) you can create highly personalized messages and templates.


Manage an unlimited number of fully customizable groups/lists with an unlimited number of recipients in each.

With GroupMail you can create and manage any number of groups (with any field structure you like) with any number of recipients.


Prepare and send your messages in practically any language.

GroupMail currently supports 30 International Character sets and the number is rising.
If you don't find the one you require contact our support department and we will get it added to the next update.

A full range of industry standard encoding options are available to make sure your messages are delivered correctly and intact.
Message bodies, Subject lines, header names, all are encoded.



Pricing & Purchase Here

Send messages directly to your recipients from your desktop, or through a dedicated e-mail server using multiple connections.
With GroupMail you can send your messages through your ISP or internal Mail server, or direct from GroupMail (bypassing the requirement for a mail server) to your recipients.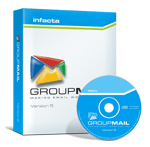 Pricing & Purchase Here
GroupMail supports SSL connections, all standard authentication options (NTLM, AUTH, POP3) and has the ability to automatically break down large mailings by number or time or both allowing you to avoid overloading your mail server - you just click send and let it do the rest.
Fully control and target your mailings. GroupMail offers several ways to target and filter your mailings.
Any of the fields you use to store recipient information can be used to build powerful filters. These filters can be applied to importing, exporting and most importantly sending.
Other ways to improve targeting are available through the use of stepped or partial sending options, exclusion lists, and other advanced properties.
Subscribe To Our Newsletter Below.

Release Notes:
Update: Using Link Properties in the Editor resulted in the http being converted to upper case, which caused a problem in Microsoft Live email - fixed

Bug: Problem reading some settings from GroupMail settings file on non-English versions of windows - fixed

Fix: Updated Fax Add-on installation to resolve some error messages displayed during installation.

Update: Updated German spell checker dictionary (post spelling reform - Die Neue Rechschreibung), includes in excess of 300,000 words
GroupMAIL is in the process of rebranding and updating. You will be notified of any update when they become available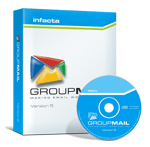 Pricing & Purchase Here
Minimum Requirements:
Operating System:
Microsoft® Windows® 8, Windows® 7, Windows Vista® (All Editions)
XP (All Editions), 2000, NT4 (SP5+) and ME
Memory:
64mb (recommended – 128mb or higher)
Processor:
Pentium (recommended – Pentium 2 or better)
HD Free Space:
100mb+
Internet Connection